Media Release
The humble pallet – critical to essential business supply
9 September 2020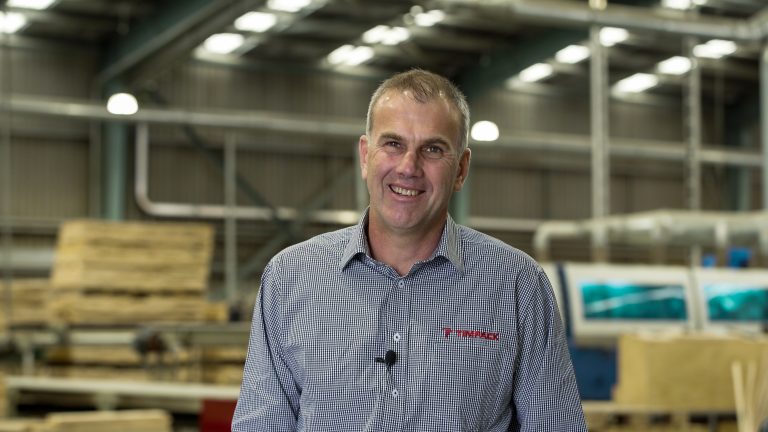 If you were one of the millions of Kiwis whose supermarket shop during lockdown included some milk, meat, apples or kiwifruit, you probably didn't think twice about the supply chain behind them.
However, hundreds of businesses around the country were relying on one Waikato-based company to keep their essential goods moving during the nationwide Covid-19 lockdown earlier this year.
Timpack is one of New Zealand's largest wooden pallet and container manufacturers, operating in Hamilton since 1984 and expanding capacity to seven sites throughout New Zealand.  Their team of 200 staff quite literally takes business places with production of more than a million items of wooden packaging annually.
"The humble wooden pallet is used to transport goods and touches nearly every product we consume at some point in its life," explains Timpack Chief Executive/ Managing Director Alan Walters.
From dairy to horticulture to meat and metal and packaging, more than 500 businesses around the country count on Timpack. Around three quarters of Timpack's customers are essential businesses, primarily in the food industry but including other products such as hospital beds. Lockdown hit during the busy picking and packing season for kiwifruit and apples, requiring a large amount of pallets and bins in a very short time period.
"Preparation for lockdown included checking our supply chain, which includes nails from China, as well as adapting business practices with changes to shifts, break times and working practices to ensure the health and safety of our staff and to meet social distancing requirements. The only real issue was timber supply from domestic sawmills, which surprisingly were not considered essential business and were forced to shut," said Mr Walters.
"With some juggling, prioritising and outsourcing, we did everything in our means to meet demand through lockdown, but without ongoing timber supply some of our customers felt the effects of the shortages."
Mr Walters cautions the situation could have become much more serious had lockdown continued, with major disruptions to our primary industries.
Mr Walters is President of the New Zealand Wooden Pallet & Container Association and said other members faced a similar predicament, with the pallet industry in New Zealand requiring an estimated 15,000m3 of timber every month. That roughly equates to 375 truck and trailer loads every month.  During lockdown Mr Walters made a plea on behalf of the industry for the Government to allow sawmills and their supply chains to operate during Level 4 lockdown.  This was partially met with the reopening of some sawmills to process sawn logs but not the fresh cutting of logs.
On behalf of the industry he is calling on Government to proactively address the issue so that sawmills and their supply chains can operate should New Zealand be placed into Level 4 lockdown again.
"Pallets are a vital but often overlooked part of the supply chain.  It's time to put them in the spotlight."
"Allowing sawmills and their supply chains to operate in any future lockdown would enable an uninterrupted flow of pallets which are critical to the nation's essential industries."